Slowly but surely we are finally starting to enjoy some better weather, and with longer and warmer days with plenty of sunshine thrown in, summer holidays not far on the horizon and barbeque season officially in full strength, then if you haven't already, then now is the perfect time to update your beach fashion pieces. We are really lucky in this country in that we have plenty of beautiful coastlines, lovely summer days (occasionally depending on where you live) and in the UK we are never more than 70 miles from the sea, and this helps to explain our great love for the seaside. Even if you aren't going anywhere hot and exotic this summer, you can still easily enjoy some lovely days at the beach, so it is obviously important to have some chic and cool fashion pieces to wear. To help give you some great and practical beach fashion ideas, we have assembled a little list here which we hope will help!
What: Wedge Sandals, TU Sainsbury's, £20
Best For: Looking chic at the beach in comfort and style
It is all very well throwing on your pound shop flip-flops when you're at the beach, but if you have any dreams of looking chic and elegant then these are not the best summer sandals for you. A classic wedge shape is endlessly classic and is actually a really comfortable one too, giving you a bit more height without hindering your ability to be able to walk easily on the sand! This charming pair from supermarket brand TU at Sainsbury's show that wedges don't have to mean a 1970's disco look either! With a muted natural colour that will look great with a tan and some on-trend floral embroidery, this pair of wedges will look great on the beach, on the promenade, in a restaurant and more, and even better, they boast a great price tag too!
What: Maxi Dress, Marks & Spencer, £15
Best For: A chic and versatile dress that you can wear anywhere this summer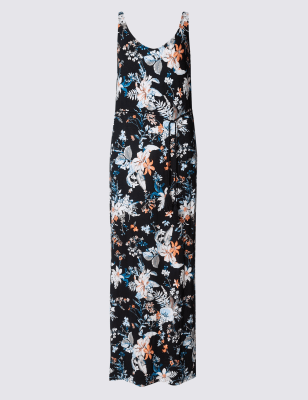 Maxi dresses have been the lovely and feminine silhouette of choice for the last few seasons and it is not surprising really considering how versatile they are and how flattering a shape they can be to a huge range of shapes and sizes. This beautiful and really reasonable priced maxi dress from high street favourite M & S taps into the floral trend that is really prevalent this season and its shade will look great even if you don't tan/want to protect your skin.
What: Full length wetsuit, Mountain Warehouse, £34.99
Best For: Being seriously active in the water
If lazing around sunning yourself isn't the thing for you, then invest in a wetsuit for that pretty chilly sea so that you can enjoy swimming and other water sports without fearing you're going to die of exposure! This is a really reasonably priced wetsuit and is perfect for those days when the sun isn't shining but when you fancy going down to the beach anyway!