Forget about cosy bobble hats with their impressive pompoms for the time being; with the start of summer it is now time to start embracing a different kind of hat fashion to see you through the season. Hats are one of those often overlooked accessories that we only wear as an after-thought, and chances are, when you put on a hat it is only because it's raining outside!
But this summer, make sure that it's different and that you take time to pick out a fabulous hat or two that will make you look and feel great and that will set off an outfit to perfection. If you are a bit lost at sea when it comes to picking out hats for your wardrobe, then don't worry! We are here to help to give you some great advice when it comes to choosing hats this summer. So read on to find out some of our favourite hats from this season.
What: Striped straw sun hat, Ted Baker, £49
Best For: Sunny days and garden parties
This gorgeous straw sun hat from designer brand Ted Baker in muted pastel shades is a great investment piece to make if you want a hat that will take you from beach to wedding guest at a pinch. The wide brim will protect you from even the sun's harshest rain, and this vintage style will make you look and feel like a screen starlet from the golden age of Hollywood. The soft tones will suit any skin tone, and if you want a hat that is both practical and feminine, then this could be the one for you!
What: Royal blue rose occasion hat, Debenhams, £40
Best For:  Occasions like going to the races or attending a wedding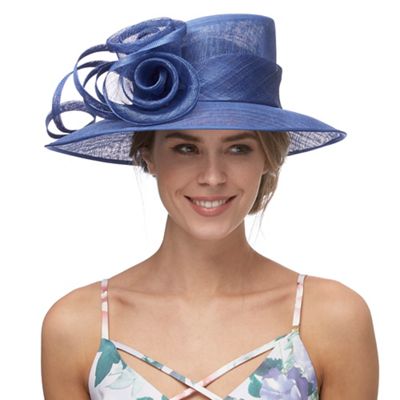 Every woman needs a show-off and stand-out hat that will look great with numerous outfits and is classically timeless meaning that you will be able to wear it again and again. This beautiful royal blue hat from Debenhams is absolutely perfect for any fancy hat-appropriate event that you may attend. From a smart day at the races to a lovely summer wedding, this stunning hat will suit practically everyone. Team with bold colours, pastels and muted neutral shade – this number will look great with them all and will leave you feeling fantastic!
What: White baseball hat with glittered details, SoulCal at Sports Direct, £3.49
Best For: Sports, active days, gardening, bad hair days
A baseball cap can be such a handy thing to have in your possession in the summer months since its laidback and casual style mean that you can get a lot of wear out of it. Whether you are nipping into the supermarket with freshly plucked brows, or going on a run, a baseball cap can lend itself to many uses. This bargain one from Sports Direct still manages to be pretty trendy and the winter white colour will really help to enhance a tan this summer. And at only £3.49, what are you waiting for?!