The start of summer heralds the advent of the wedding season and chances are you've already received at least one invitation to attend a bash this year. Weddings are obviously the perfect time to celebrate the happy couple, see old friends and family and to just generally have a great time. One thing a wedding does require (aside from your attendance and a wedding gift of course!) is a wedding outfit, and while men can cheerfully pull out their perennial suit and perhaps select a new tie, us women have to assemble a classy outfit that will make us look and feel gorgeous whilst still not being too ostentatious.
There are various sort-of guidelines when it comes to choosing a wedding outfit too. White, cream and ivory are of course out of the question since nobody wants to detract from or be a terrible person and offend the bride! Another thing is not show too much cleavage or to have a too daringly short hemline. Don't forget there will be a church service so you will want to look appropriate for that. Lastly while black pieces are fine, do avoid dressing head to toe in black to avoid a funereal appearance. Now check out some of these lovely wedding outfits here!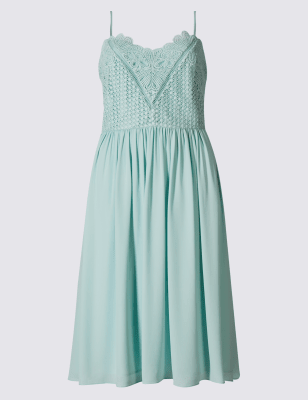 If you are feeling a bit lost at sea when it comes to organising a wedding outfit, then you should definitely check out the wedding shop section of the Marks and Spencer site. Not only does this include useful tips for attending a wedding and wedding etiquette, but it also boasts some fabulous outfit ideas for guests, mother of the bride, and even for kids with loads of handy accessories too such as shape-wear. For an easy to wear and feminine look that will keep you comfortable all day, then this dreamy and romantic floral lace slip dress is ideal. This particular shade is duck egg and is perfect for summertime, although there are other colours available such as navy and powder pink. Priced at £79 and available in sizes 8 to 22, this is a lovely and versatile dress that will keep you looking cool and elegant as a wedding guest.
If you are on a budget and are looking for a more purse-friendly piece that still looks great, then this lovely floral number from Matalan will look great on their big day. The navy blue with the beautiful blue toned floral motif will suit just about any skin tone, and the nipped in waist with flowing skirt to the knee are great for any shape. This dress, despite its tiny price tag of just £18, also manages to be perfectly appropriate for a church ceremony followed by the wedding bash. Available in sizes 8 to 22, you'll be able to wear this dress again and again, and just like with the M & S style, it is really comfortable and will look great with a pair of court shoes or even some funky wedges.
There are loads of dresses, skirts, trouser suits and more that will all look elegant and classy when you are attending a wedding, so hit the shops and check them out!