If you, like many of us, have finally pulled out your bikini and swimsuit from last year and have found that it has lost its stretch, faded and is pretty much past its past leaving you only with your sporty utility suit that'll be no good for days at the beach, then don't worry. You can have the fun of choosing and buying a new swimwear number for this season, and the great thing is that you don't need to empty your bank account in order to get one that you like!
These days we are so lucky in the fact that our high street retailers really keep up to date with the very best and latest trends and the same goes for their swimwear collections too. No matter what your shape whether you are a pear shape or boyish, on the high street you can be sure to find something that will not only flatter you but that will make you feel great too. Read on for some of our favourite picks from the high street this season.
If you prefer a functional swimsuit that'll let you swim laps at the local pool whilst also letting you lounge at the beach without looking like you're about to don a swimming cap, then this cool tie-dye sporty swimsuit by Slazenger will be perfect for you. With its fun summer colours and thin straps you can easily wear this whilst sunning yourself whilst being secure in the knowledge that one small wave won't dislodge it and leave you blushing! The eye-catching design is in colours that are bright but that will flatter any skin tone whether you take a tan or not. It retails at £30.
If you want to make the most of your assets then this cute lace-up bandeau bikini top with the matching bottoms is ideal. Designed by Julian MacDonald for Matalan, the bright turquoise blue is a great colour to be rocking this season and the details really help to make this set from the chic and sexy lace ups to the heart jewels on the ends of the straps. Even better, with this set you buy the top and the bottom separately meaning that if you take different sizes, you can still easily get a bikini that will fit you perfectly. The top retails at £15 and the bikini bottoms at £10; to help you get an even better bargain, check out a Matalan discount code for when you shop online.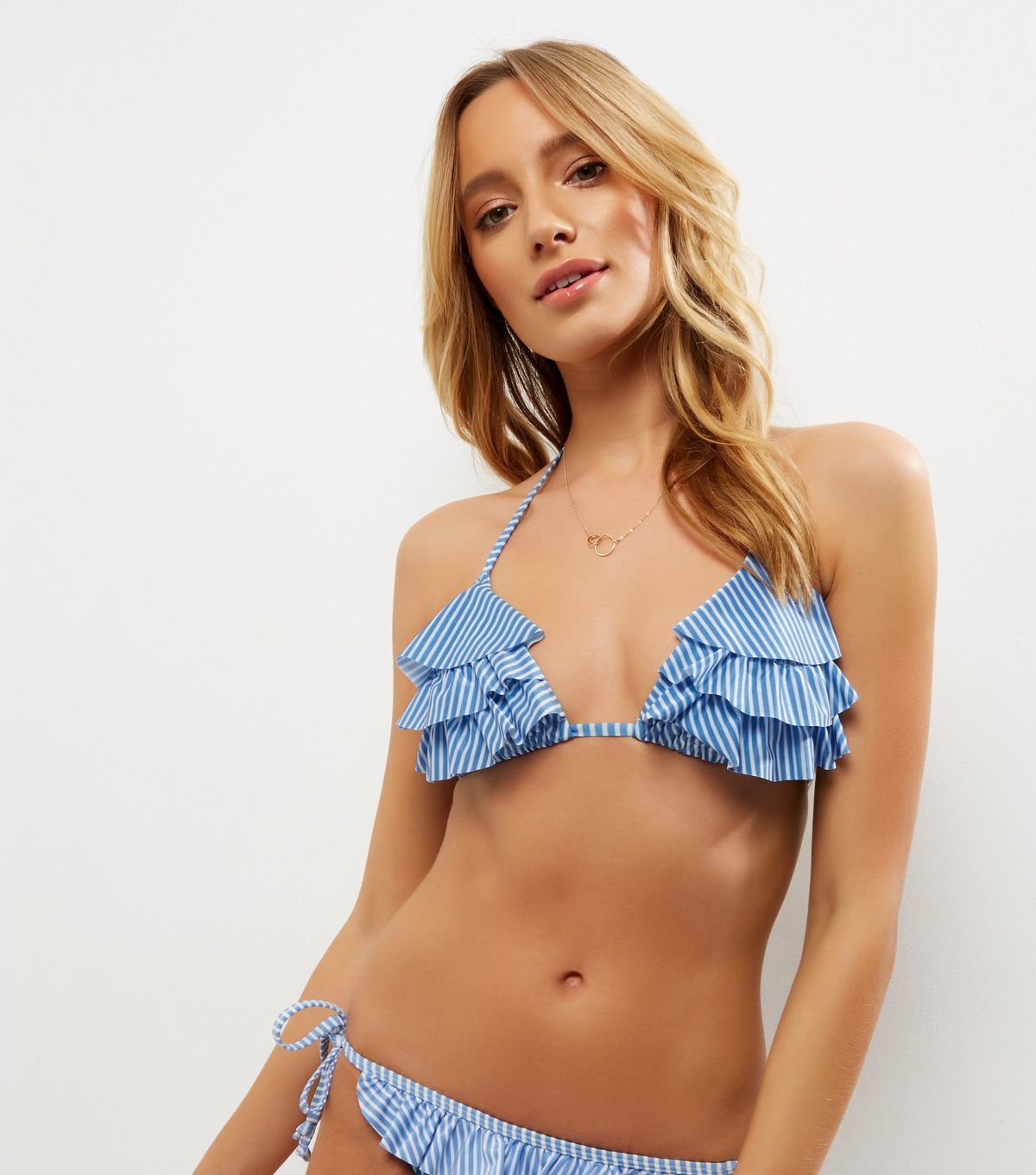 Finally for an itsy bitsy teeny weeny bikini that still looks classy, this blue and white striped number from New Look is perfect. The delicate ruffles in the quintessentially classic design are flirty and fun and will mean that you can enjoy minimal tan lines. Just like with Matalan, this bikini set is sold separately with the top costing £12.99 and the bottoms £9.99. If you are small –chested but don't want to go down the route of bulky padding, then the ruffles are your friend, and if you have a bigger bust, then the halter-neck design will be great for giving you enough support.
So get out on the high street today to check out the great and affordable swimwear options that are out there for this summer.