Denim is just one of those things that is permanently in fashion and everyone will own at least one pair of jeans and if you don't, it is well past time to invest in a pair! You might not always associate denim fashion with summertime, and it's true that it is the perfect time to embrace some lighter and airier styles. However, in this country, usually the weather is never that bakingly hot, so you can enjoy denim pieces the whole year round!
From jeans to denim shorts, skirts, shirts and more, there are loads of options to choose from. In addition to this, for the last season or two, double denim has been a really fashionable look, so you can always layer your denim clothes for a trendy style. If you fancy adding a bit more denim to your wardrobe, then we are here to help with some lovely pieces from the high street this season.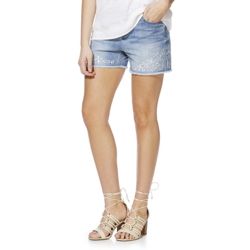 Denim shorts have been a bit distressingly short for the last few seasons and lose cheek-baring styles are perhaps best left to teenagers. However you can still easily rock a pair of laidback denim shorts that don't leave you feeling exposed as this pair from supermarket brand Florence and Fred prove. In a lovely light denim that will look great with your other wardrobe pieces this summer, this cute pair of shorts have a decent enough length as well as lovely lacy embroidery to add a little detail to them. Available in sizes 6 to 22 and at a reasonable price of just £16, these shorts easily tap into the embroidered denim trend without a price tag that'll cause you to raid your piggy bank! Pair with trainers and a light jumper for cooler days or sandals and a plain white t-shirt for when the sun is really shining.
A denim skirt is a great piece to have in your wardrobe for those days when you want to look chic and feminine without having to dress up too much. Instead of going for the standard frayed denim mini that everybody seems to sport, instead vamp it up a bit with this more unusual style from bargain American retailer Forever 21. Available in both light and dark denim, this cute little skirt is easy to wear with some lovely detail thanks to the funky lace-up front. Priced at only £15 and available in sizes XS to XL, this flattering mini will look great this summer.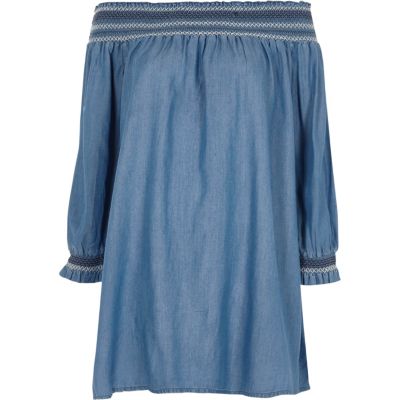 Finally for an on-trend piece that you easily dress up or down, this Bardot style denim dress from River Island is absolutely perfect. The off-the-shoulder style along with its loose silhouette and long gathered sleeved with ensure that you look cool and collected no matter the summer heat. Light and airy, this gorgeous denim dress in available in UK sizes 6 to 18 and costs £35. Team with a dainty pair of summer sandals and tousled wavy hair for a slightly hippy vibe that will look great.